I haven't done all that much stranded knitting in my life.  I suppose it's because I haven't had to.  Karen Walter is a great one for stranded knitting and makes lovely projects and teaches wonderful classes, so I don't need to.  I have to say, though, that when I do a small project of some kind using this technique, I enjoy working the little "peerie" patterns the most.
Peerie means small in Scottish, and the peerie patterns in Fair Isle knitting use only two colors across any round and are short repeats both stitch-wise and row-wise.  It's easy to get into a rhythm with them, and their appearance is delicate and decorative.  Here are a few examples from Ravelry:
Kate Davies has done some beautiful designs, and if you're interested in ethnic history of knitting in Northern Europe and the British Isles, you'll learn a lot from her blog, as well as seeing some of the most glorious photography you'll ever experience: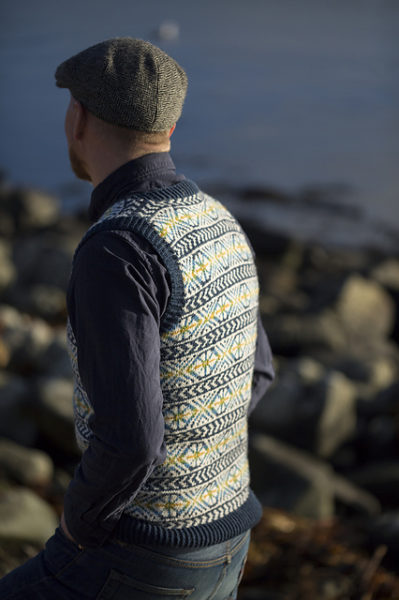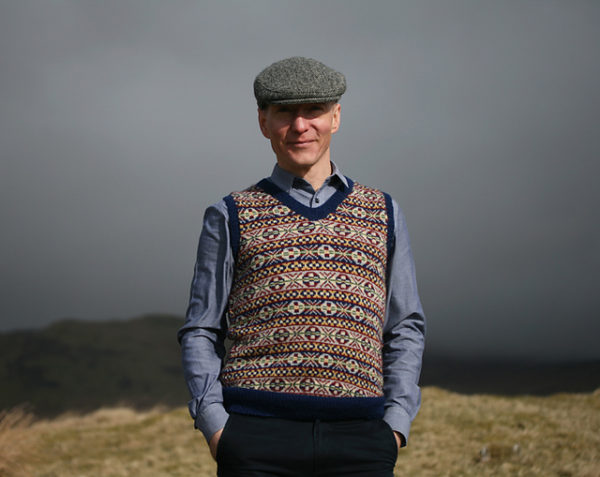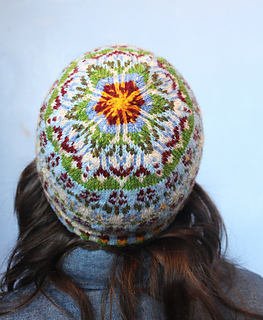 Alice Starmore literally wrote the book about Fair Isle knitting (Alice Starmore's Book of Fair Isle Knitting). Packed with history and technical details plus page after page of charts for traditional stitch patterns, it's an amazing resource.  It also has sweater patterns and very scary instructions for making and cutting steeks.  You can look at her patterns on Ravelry but she doesn't sell patterns there.  Her designs, except for the books she has published, are available as kits only.
Anyhow, all this is leading up to telling you about the sweater Karen is going to teach this fall, starting late in September.  First Fair Isle is a beauty, featuring loads of pretty peerie patterns and modern top-down construction.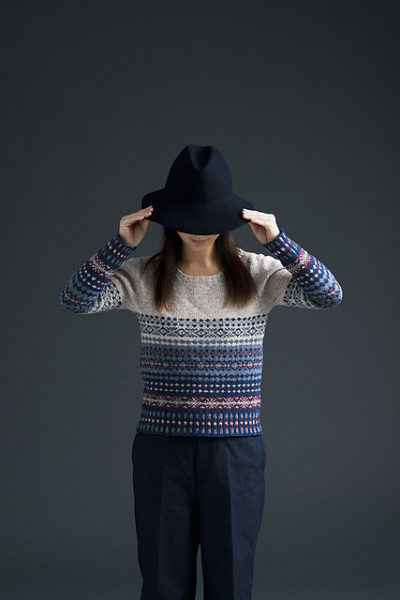 The Fair Isle patterns are at the bottom of the body and sleeves, so they're in the round, not interrupted by steeks or shaping, and all the fun comes at the end!  This is Karen's version: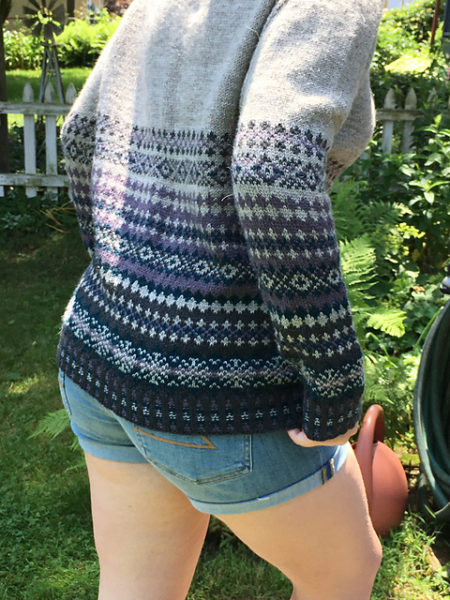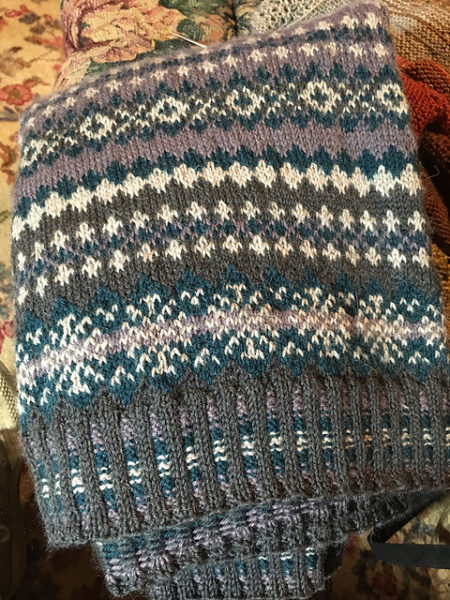 Karen used Cumbria Fingering from Fibre Company, a lovely choice for this project. Its blend of traditional British sheep's wools give the colors a heathery depth, and the addition of a smooch of mohair adds loft and sheen.
One of the most pleasurable aspects of stranded knitting is choosing the colors.  It's also one of the most fraught aspects.  Karen was a bit disappointed in the lack of contrast between a couple of the colors she used (although I like the subtle differences).  Plus it's very difficult to visualize what the patterns will look like with other colors.  The solution?  Coloring the chart!  The other day I pulled out my old colored pencils and got as close to some of the Cumbria colors as I could, and had a great time playing around.
The chart patterns start right under the bustline and travel down to the hem, so they're shown in reverse order on the chart.  The one below shows colors similar to the book's sample.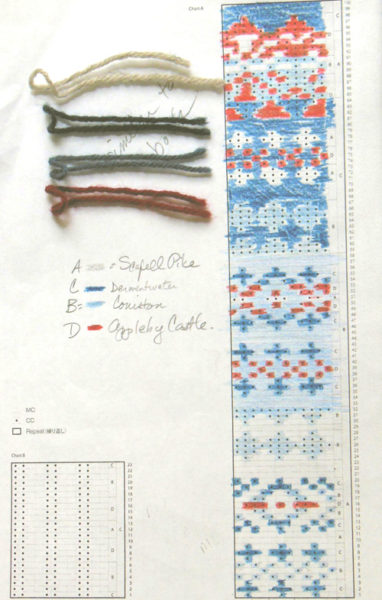 This teal and green version is quite pretty.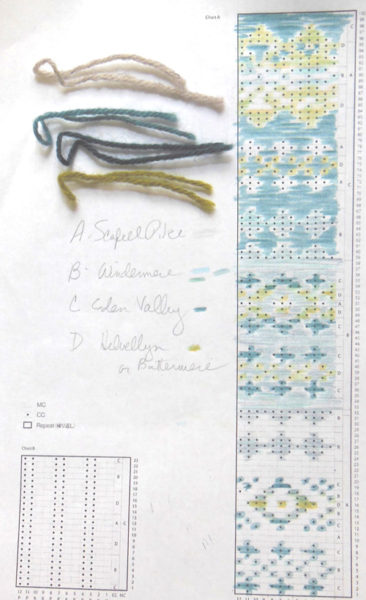 And I like this one, with greens and a pop of copper: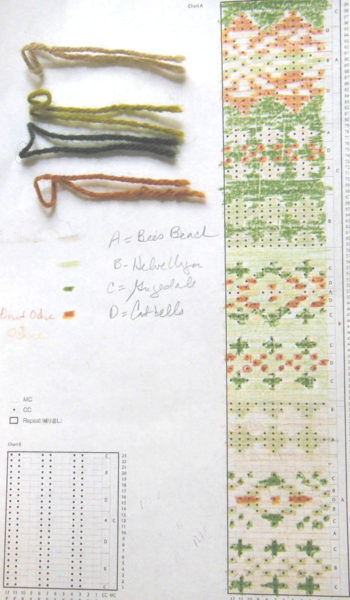 This one is different in that I used a dark gray as the main color and went brighter at the bottom: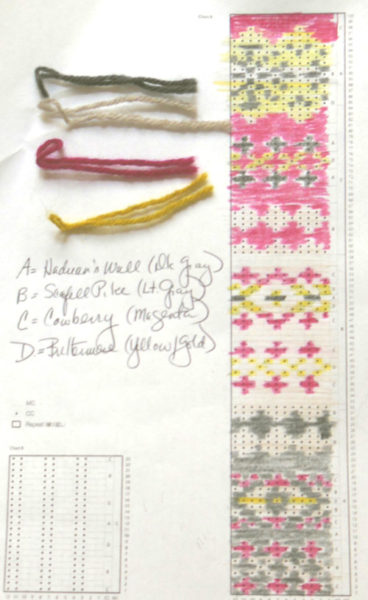 Well, I thought this would make choosing colors easier, but I still would have a hard time deciding!
Come in and do some coloring!
---