I hope you all know about our yarn sale this coming Saturday, November 26.  All yarn is at least 10% off and if you fill a Frequent Buyer Card (or already have a full card) you can use it for an additional 10% off.  This is a wonderful time to think ahead to what you would like to be knitting or crocheting during long cold snowy evenings this winter, and get a good deal on materials for those projects!  Do a bit of planning and feel free to bring patterns along with you; we just may not have time to help you with pattern searches on Saturday.
Meanwhile, we'll be open on Tuesday (pre-shopping is welcome, by the way), then closed Wednesday – Friday.  I'm looking forward to visiting with Maxwell the Great (Nephew), and I hope you have some downtime this week, too.  Maxwell's mom has requested a poncho, so I designed and made this, which I hope she'll like: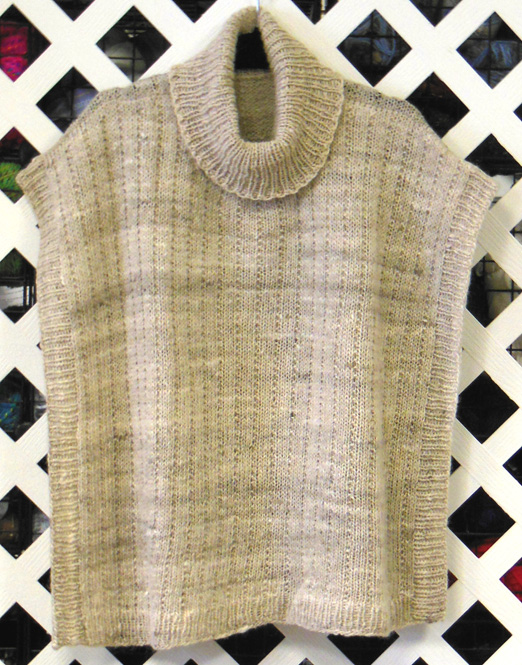 It's quite pretty in Noro's new yarn, Tennen, a nice mixture of wool, alpaca, and silk which softens and drapes very well after blocking.  I love the texture and natural color effects of Tennen, but it can be made in any worsted-weight yarn you like.  The pattern is free with purchase of yarn to make it. It's at the shop now, but if, as I hope, Sarah likes it, we'll have to make a new one for the shop.  It's a simple pattern, so no worries!
Karen and I are thinking hard about this winter's class schedule.  She'll be teaching a beautiful Fair-Isle circular-yoke sweater.  I have an interesting cowl in the works.  And there may be a knit-along involving Ann Budd's Knitter's Handy Book of Top-Down Sweaters, in which you could use any yarn (as long as it comes from Yarn Gallery, of course) and make any design.  I've embarked on a top-down set-in sleeve cardigan in fingering weight (something I really want for me and could not find a pattern on-line to suit me.  How does that happen when there are 100,000+ patterns out there?) It's taking a long time to get anywhere, of course, because I'm using size 3 needles, so the knit-along will be later in the season, for sure.  You, of course, will be more sensible and use a different size yarn.  Anyway, re: classes, we're open to ideas – what would you like to make???
Have a wonderful, safe, peaceful Thanksgiving, eat lots of fabulous food, and come see us Saturday!