I'm in a pretty cool place right now, knitting-wise.  I've almost finished all the class models and summer models I had planned to do. (Plus at least one that I hadn't planned – see below.)  I still have to finish off the fingers of the second Winter Bride glove and that's taking me a while.  The whine factor in this is pretty high: (1)  it's the second glove, (2) it's little tiny stitches and little tiny diameters, and (3) I'm not so hot at using double-points, in fact I'm pretty slow and clumsy with them.  Two more fingers to go,
and it will be done soon enough and then I'll soon love it again.
But really, whining is a part of knitting.  Knitters love to whine!  If you could ever find a knitting project that only took 10 minutes, I guarantee that the last 2 minutes would involve complaining about how it's taking forever and why can't it just be done already???!! We are patient and persistent folks, but we feel no need to be quiet about it.
So anyway, my decks are pretty clear right now, which gives me a great excuse to browse Ravelry and think about new projects.  Brooklyn Tweed's new Wool People collection came out recently – nothing made me gasp with delight but there are plenty of nice sweaters there.  What I really want is to live in Jared Flood's photographic world, wherein I would be prettily posed in an attitude of quiet confidence, in a perfectly fitting sweater, flatteringly accented by diffused sunlight at all times.
So while I think about new projects, I'm going to make Brother-in-Law socks (they will be moving to Charleston in a year or two and I think his need for wool socks will drop dramatically.)  I plan another hoodie for Maxwell the Great (Nephew) because his mom says the summer one I made is his favorite thing to put on (and how sweet is that to hear?) and he'll soon outgrow it. And I have in mind to go through our huge file of free shop patterns, updating and making new models from current yarns where needed.
That really should keep me quite busy and my schedule full, but I do get distracted.  I had no plans whatsoever to make the Refined Arches Tabard but as soon as I saw the pattern, I knew it would be a perfect project for Shibui Twig.  I had to make it! And so I did.
It's airy and open for summer in Twig, and would be a nice layering piece in lightweight wool or lace weight mohair for fall.  I would say it's an intermediate project because, even though it's all lace, every other row is a rest row and there's no shaping.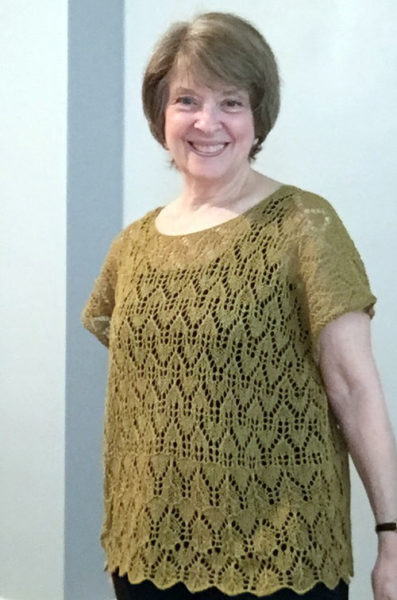 We have lots of classes starting in July (it's almost here!!!) including a beginner class.  If you have been on the fence, now is the time to commit; most have only one or two spaces left.  Socks, mitts, hat, sweater and a chicken!  What more could you possibly want?
I hope you're having a wonderful summer and accomplishing everything you planned – or nothing at all!  Have fun!