I feel like I've been knitting Pleasant Trip forever.  I finally bound off yesterday, with a pretty picot bind off.
I wasn't sorry to see it end.  It is a really great trip project, absolutely!  If you have a long (cross-country) car ride, or a long plane trip, like to New Zealand, or Antarctica, or Mars, it's perfect.  One needle, one page of instructions, and one ball of yarn, eminently packable, memorizable, and put-you-to-sleepable.
It's very pretty, soft, light and warm in Yak, and after a couple of days away from knitting it, I'll love it.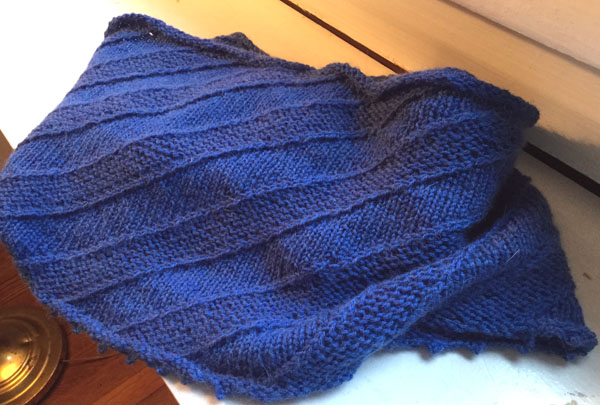 I think it took me so long mostly because I had nothing more enticing waiting in the wings for me to start so no reason to push to the end.  I'm a little between seasons.  Christmas knitting is over, winter classes are in full swing and spring yarns aren't here yet.  I'm looking for fun spring and summer projects – any suggestions you have, send them my way!
A few of Ella Rae's specked colors in their Lace Merino DK came in: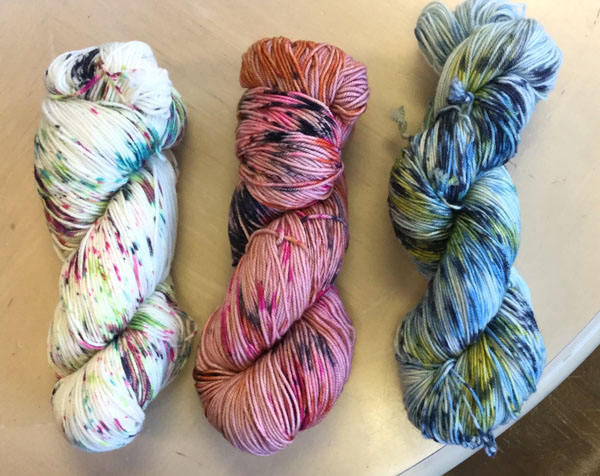 I swatched to see what the speckles did – I loved the yarn, the swatch on a size 5 needle came to exactly 22 stitches per 4″ in stockinette.  The fabric is soft and bouncy, and the colors are nicely distributed:
I played with color a little, of course!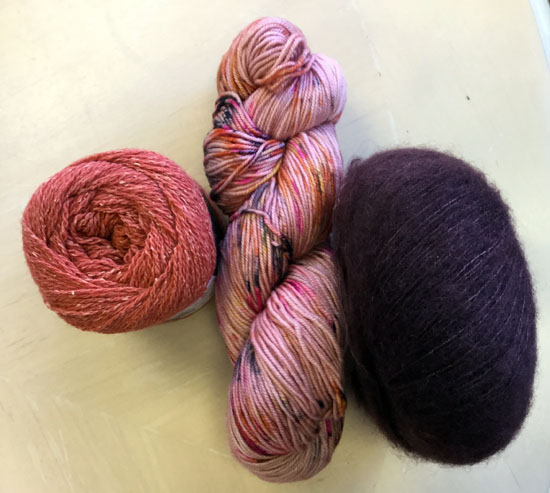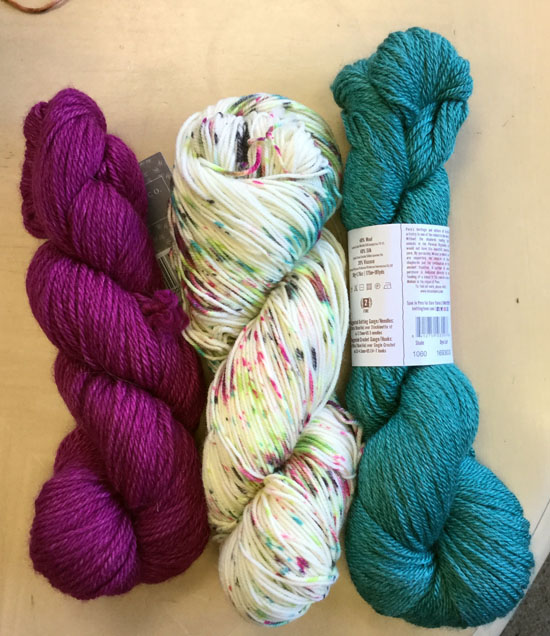 Any of these combos would be lovely for a scarf or shawl, but I think using this yarn with a gradient pack would be especially beautiful.  Even though it's labeled as a DK, I think it's adaptable enough that you could easily mate it with a fingering or sport weight to make any asymmetric shawl – there are hundreds on Ravelry! Get busy!
---