I like working to deadlines.   I'm good at planning how much I have to get accomplished and when to make something happen.  I was a project manager, after all, and a pretty good one.  However, throw in an entire three days of your dog's having explosive diarrhea (yes, thank you, I now know what that means) and really, anyone's schedule could be knocked out of whack. So for three days I did nothing but run Jackson outside every 60 – 90 minutes and in between, clean the floors and carpets and do laundry.  He's okay now and I've almost forgiven him for whatever he ate out of that leaf pile before I could snatch it out of his mouth.  Almost.
So I got nothing done as far as Christmas knitting during that episode and the two days afterwards that I needed to catch up on sleep (okay, I'm pretty sure I'm done whining now) and I've been knitting like crazy ever since, and enjoying it!  I finished the turtleneck that my niece requested.  It turned out very lovely in this lightweight merino/cashmere blend, and it's the prettiest navy I've seen for a long time.  Hope it fits!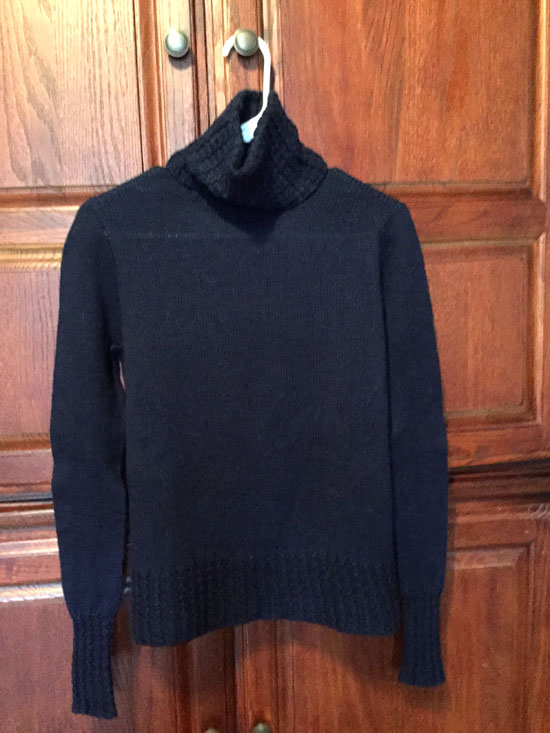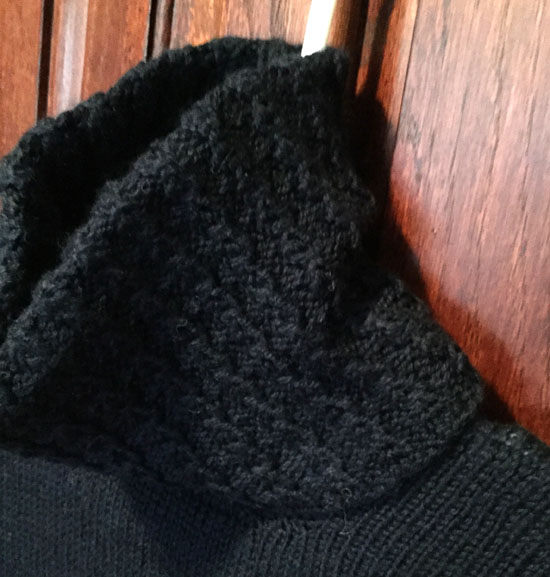 It's very plain except for the trim at the neck, cuffs, and bottom hem.
I just got started on this cute little sweater for Maxwell the Great (Nephew), who is utterly consumed by trucks and heavy equipment of any kind right now.  Here is the front – yes! I did the dreaded intarsia –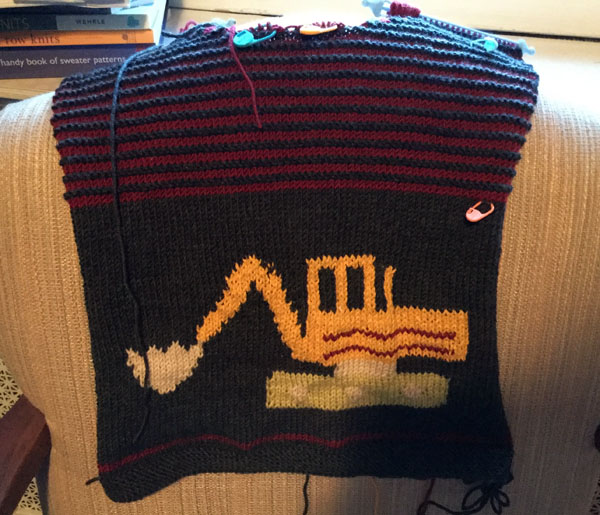 and the back, thank goodness, is plain.  The pattern is from Lucinda Guy's Handknits for Kids which you can get for either $1.89 or $859.83 on Amazon.  Bizarre, right? It's not just me?
I just finished a class model for Beloved Berlin, using Fino and a set of Fino Mini-Skeins.  It's really just lovely and was fun to make. I used fewer stitches and did more lace repeats so that it would be a shorter loop and a deeper cowl: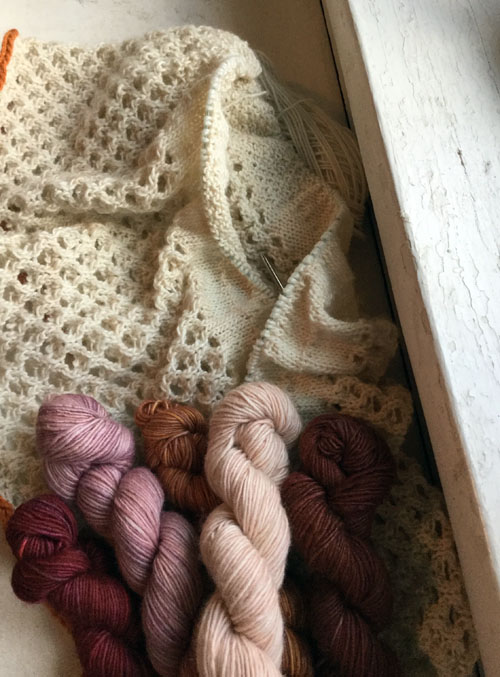 You can see a bit of the provisional cast-on at the top.  The lace pattern is quite simple to memorize so it's a good portable project for any occasion where you want to keep your hands busy and your mind free to wander a bit.  It's a cushy luxury in this yarn, so soft, yet warm, and the design makes it versatile.  You can wear it lace side out: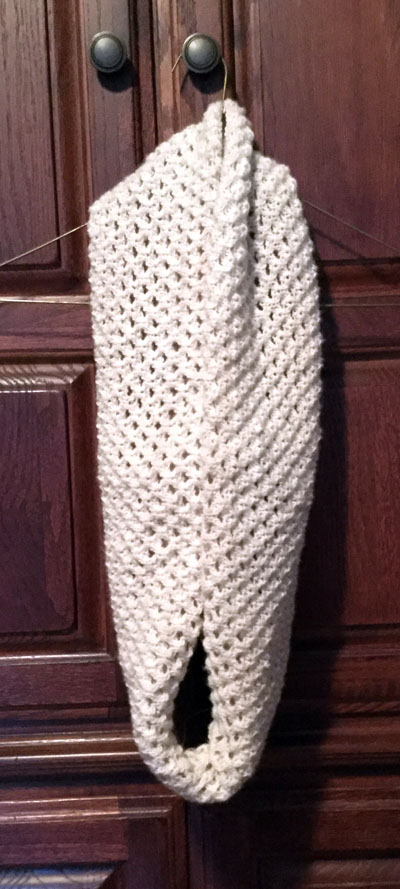 colorful side out: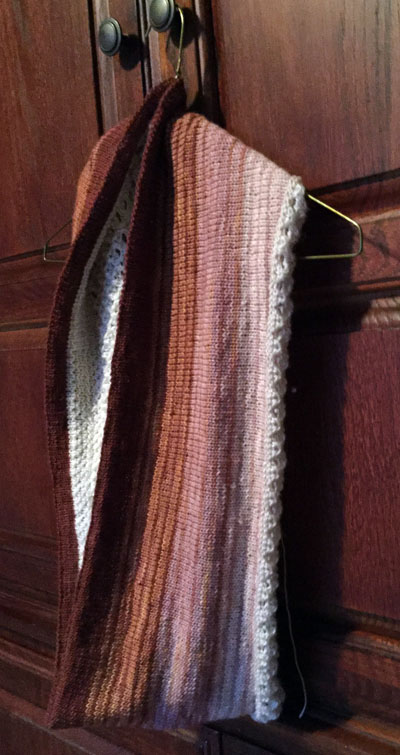 or wrapped twice to show off the blend of textures and colors: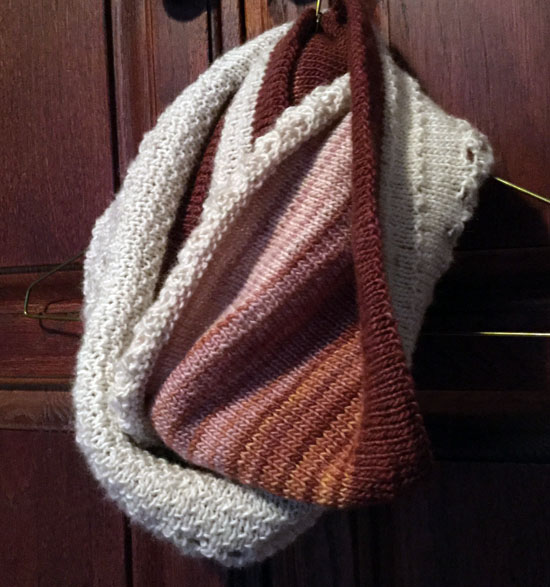 It feels quite wonderful!
So my Christmas knitting is almost done.  My niece requested a pair of socks but those will come a little later.  However, we just got new colors of Opal: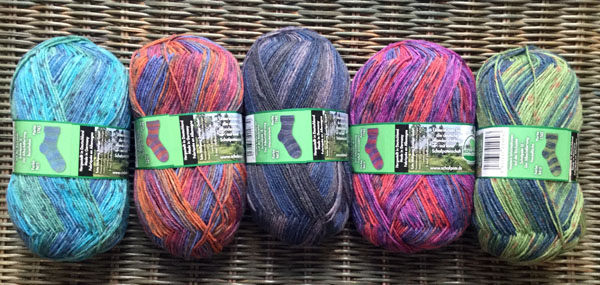 and Jawoll: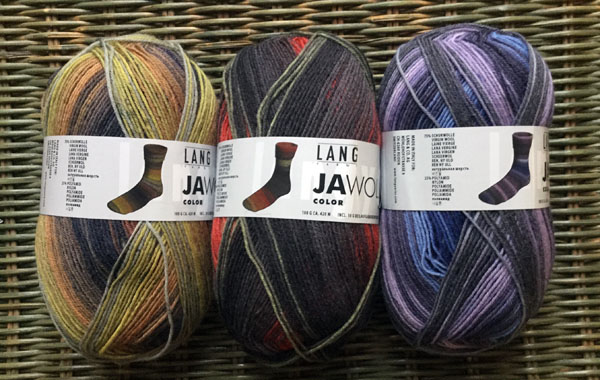 I'm kind of in love with the Jawoll colors and want to try this sock: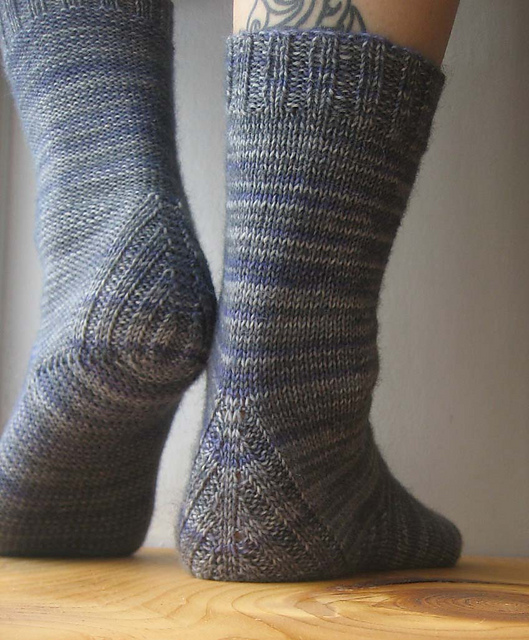 It doesn't have a traditional gusset so there's no picking up, so you can wear them either side out as shown.  Looks interesting, no?
I hope your holidays are going well.  A reminder that we'll be open this week during regular store hours.  Come knit with us! (Or spend those gift certificates!)
---