I nearly lost this file of photos of customers' finished projects, so I decided I would hurry up and post them before I do something unexpected and inexplicable again!
First, Janet came in with the most wonderful shawl that she made during a Mystery Knitalong from Joji Locatelli this past summer.  The shawl is called Starting Point and look how wonderful Janet looks in it! I love the colors she used.  (She also brought lunch for Jack and Purl and absolutely made their day!)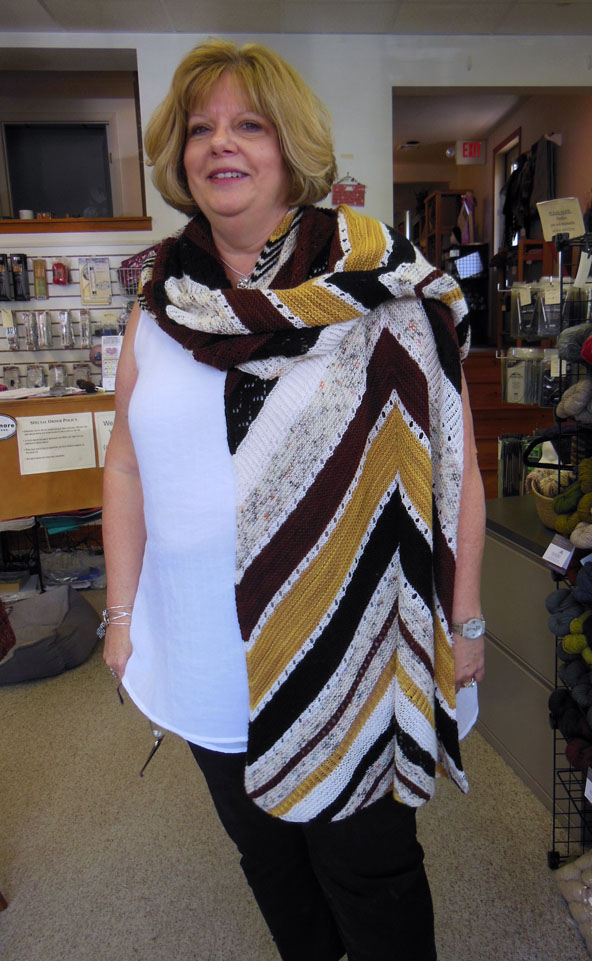 Jettie sent photos of two finished objects that she made with our classes this past summer, and I just love them both!  First she made a Fancy Hen for a friend who raises Rhode Island Reds: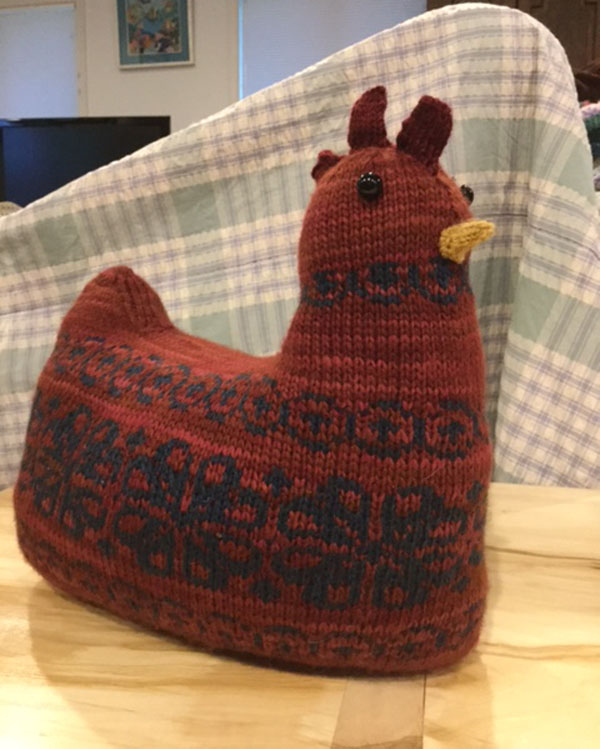 and then she made this pretty pink Pearl for herself: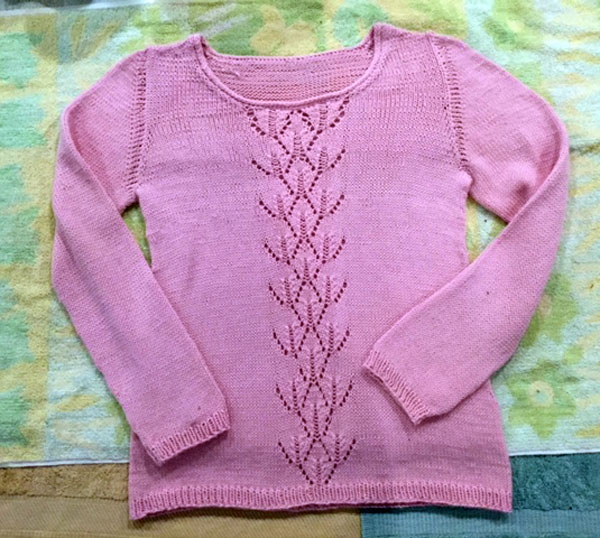 Both beautifully done!
Anne Alderman made a beautiful Stella Luna shawl, all in black, bless her heart: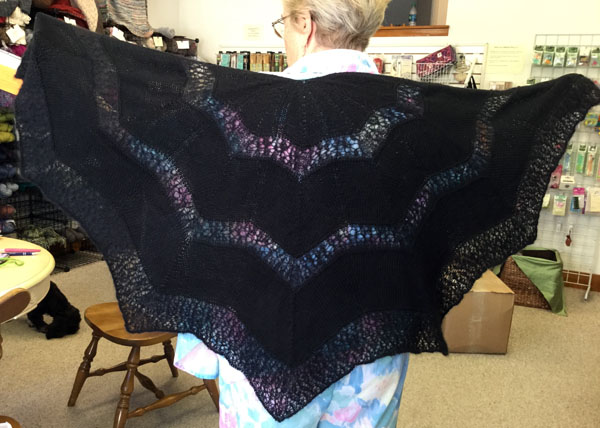 Challenge met and mastered!
Kathleen Delong took our Magic Loop Mitts class this summer and made a beautiful pair of mitts, then designed her own headband with the leftovers: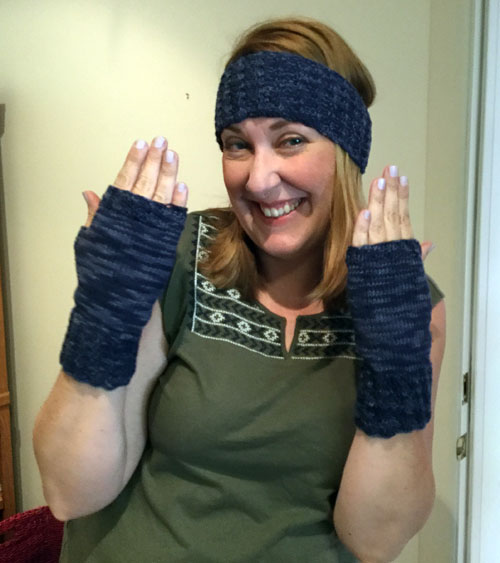 I'm so impressed by Kathleen, who has only been knitting for bit over a year!
Sandy Albert has two unexpected but very welcome grandchildren coming this fall, and made them boy and girl blankets, then had them personalized at Initials Only: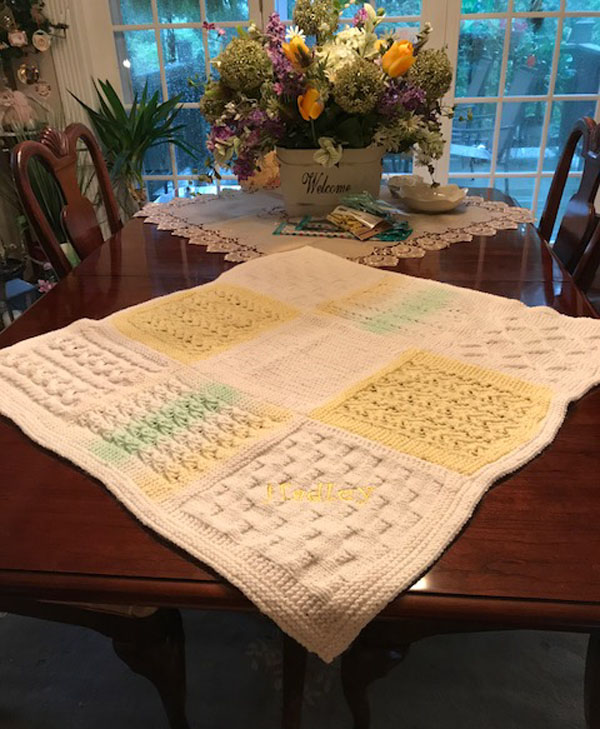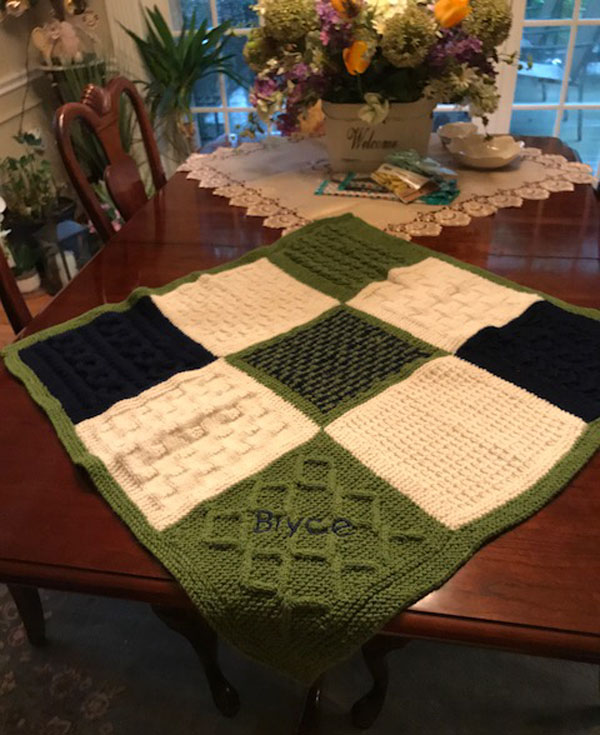 Dave Ritz, who is recovering from a broken ankle (and had to cancel a planned trip to Rhinebeck – so sad!), sent for our Yarn Gallery afghan pattern and yarn to make it, and got the first strip done in a couple of days!  He's so fast!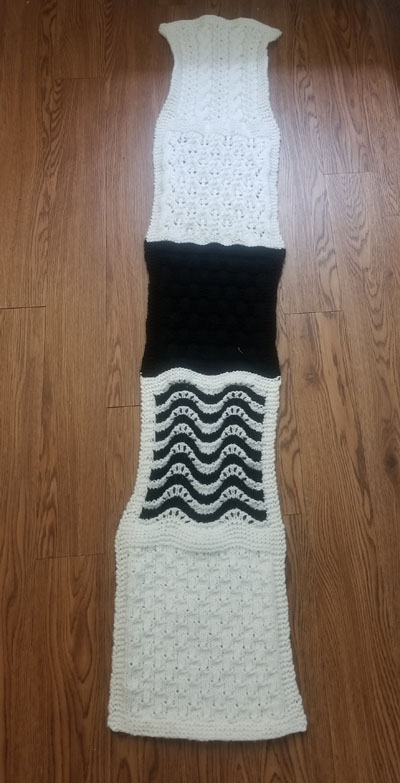 It's looking good in black and white, right?  Love and best wishes to David for a quick healing process!
Pam Berger has been crocheting mermaids this summer and I asked her to please bring one in to show me, since she used unusual yarns and I just couldn't picture it.  This mermaid is adorable, here doing the side stroke, with long shiny ringlets floating about her and a lovely sinuous tail: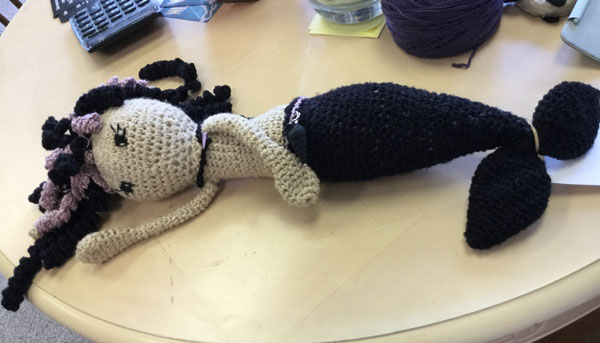 I have only one finished object this week.  I couldn't resist this wonderful red color of Estilo, a wool and silk blend from Plymouth that is so completely yummy I had to make something with it.  One skein made an Ocean Waves cowl which I cut down to a cast-on of 234 stitches to make a loop about 42″ around and 10″ tall after blocking.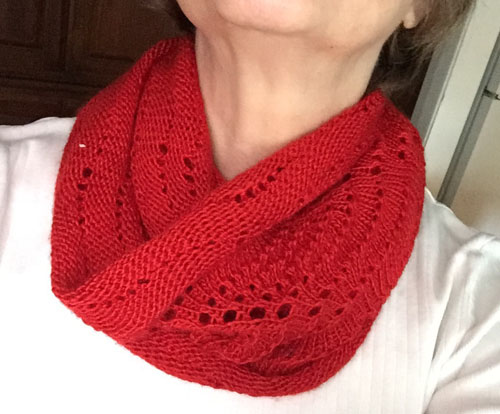 I love this pattern, it's relaxing and engaging all at once, and very, very pretty.
I have more new yarn to show you, but you're sick of looking at new yarn, aren't you? No?  Me neither!! Next week…
---