Well, it was fun, and it's almost over, and I have to admit I'm glad.  I don't know about you, but when I'm at loose ends for too long, I tend to fall into bad habits – the same bad habits I fight against all the time: too much couch time, too many snacks, too few chores or useful projects.  I did enjoy the first half, though.  I went to my home town for a bridal shower for the daughter and future son-in-law – both so sweet – of one of my cousins.  It was given by the daughters of another of my cousins, and it was great seeing all those lovely folks again.   Another day, I got to have brunch with Maxwell the Great (Nephew) and of course, his mom, dad, and grandmother. He's cuter than cute, and despite his mother's warning, there was no food-hurling.  He was very, very good!
I also bought some wonderful yarn for the fall and thought wistfully about the big yarn show in Columbus, which is happening this coming weekend.  Really, it's better if I don't go, I just get into trouble (inventory-wise, not in any interesting way) but – all that beautiful yarn in one place!!!!
The only knitting I did was to finish Pearl, the sweater I'm teaching later this summer.  It knit up like a dream in Plymouth's Worsted Merino Superwash.  I made it in PINK (extreme pink-ness) and it's pretty cute.  I can only do a bad photo right now because it's still damp so I dare not stretch or hang it, but here it is: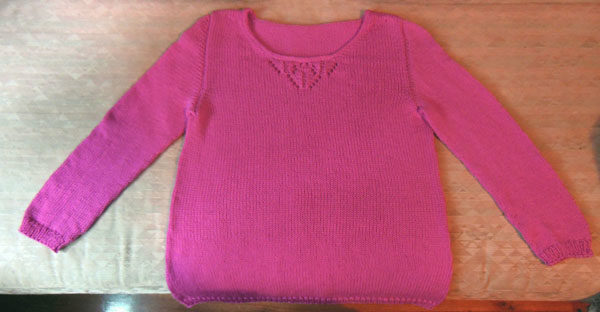 I made two modifications to this version:  (1) I used German short rows instead of wrap-and-turns for the shoulders and the sleeve caps, and (2)  I did only 1 lace motif at the neckline and didn't carry it down the front, just to show that you can make it this way if you wish to.  The next one I do (which will be while the class is knitting it) will have the lace the whole way down the front.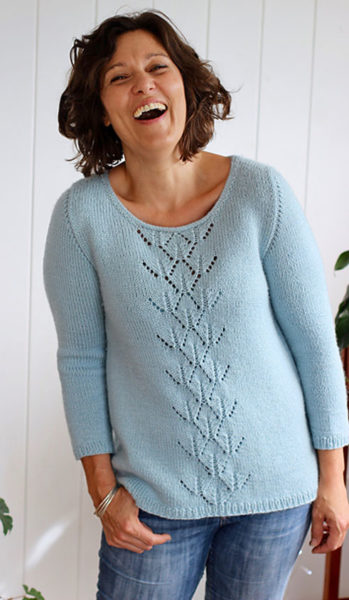 See how happy she looks? I like the verticality of the lace column, and it won't be so tedious to knit the body.  The lace is pretty and worth the effort.
In fact, I like everything about this sweater and would be happy to have several in many different colors and fabrics in my wardrobe.  I like 3/4 sleeves, but it would be easy to carry them down to full length. The neckline is flattering and is finished with a neat I-cord bindoff.  The picked-up sleeves have short row caps which are interesting to work, and you can choose whatever your favorite method is to work the sleeves in the round (I used magic loop – if you don't know how, learn it in our Magic Loop Mitts class.  The classes overlap a little but you'll know the technique by the time we get to the sleeves and using it in a different application will reinforce your knowledge.)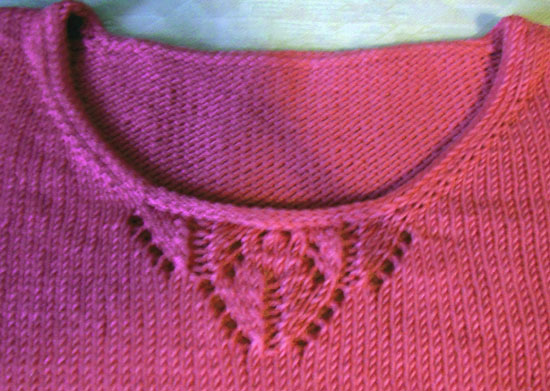 The length of the sweater is great and easily adjustable, and the a-line silhouette is perfect for my body and easily eliminated if you aren't quite so cursedly pear-shaped. The light worsted weight wool is good for at least 6 months of the year here. plus it's machine-washable.  I may end up finishing the drying in the machine, too, just to see how that works.
To sum up, I couldn't be more pleased with this pattern and the yarn and the result!  Classes are filling up nicely (I love this summer's schedule) so check them out here.  And heads up if you're intrigued by lace knitting and beading – Karen's Eternal Optimist knit-along starts on June 15th! The link will take you to some beautiful projects on Ravelry – then come in to see Karen's version in person – it's simply luscious.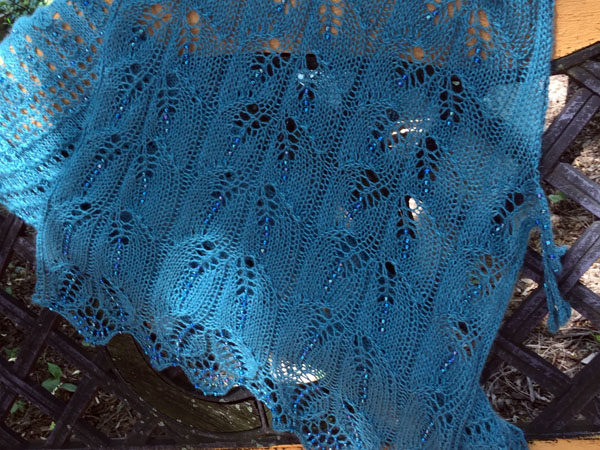 By the by, we'll be closed Saturday June 17th because of Art on the Avenue – you know the drill: no parking, lots of crowds and kids and dogs so lots of frenetic barking on the part of Purl and Jack, lots of hair-pulling and yelling on the part of me – so, sorry!
---