The summer class schedule has been posted to our website, and I'm so glad the work is done, and I'm also just as pleased as I can be with the roster of classes.  They're all fun, beautiful projects, all varied in skill levels and I really think that anybody could find something to interest her (or him) in this list.  Check them out here and see what fits into your schedule for the summer.
I had (and am still having – not all are done) a great time knitting some of the projects. The variety of types of projects and the different yarns and techniques have really sparked my knitting mojo, which wanes just like everyone's from time to time.  After knitting several relatively simple projects using summer yarns, it was pure pleasure to pick up some yummy wools and blends and remember how lovely the process of knitting can be and what fun it is to have to pay attention and concentrate on more complicated patterns.
The Cable and Coin Lace Pillow is a great addition to your favorite couch or chair, a guest room or a den.  I used Ella Rae's Chunky Merino Superwash,
a tough 100% wool yarn that really is machine washable and dryable.  I know because I tested a swatch by throwing it into the washer and dryer with a load of jeans.  It held up beautifully, even with such terrible treatment, so I know I can really use the pillow without fussing.  You could also double good old Encore to get the same gauge and the same hardy washability. I don't generally knit with brown for clothing (don't know why), but this warm shade looks great with my couch's winter coat, don't you think? And the orange buttons are just fun. The pattern comprises a simple 3/3 cable and coin lace which is fun to work and difficult to mess up!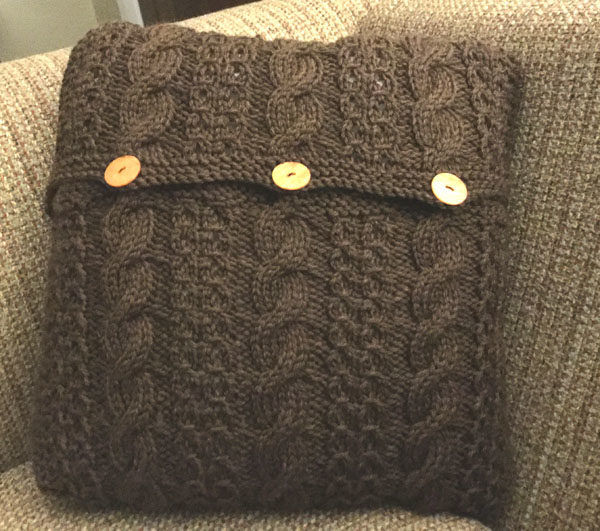 Karen is doing a knit-along for this fabulous Eternal Optimist scarf (or shawl), made from Road to China Lace, a lighter version of Road to China Light, a perennial fave that is luscious and luxurious.  One beautiful skein (plus beads, needle, pattern) is what you'll need for our knit-along on Thursday evenings (starting June 15).  Every section is different, interesting, and fun to do, and the cunning little dangles are really charming. You'll be completely confident in the face of lace designs once you've worked your way through this lovely piece.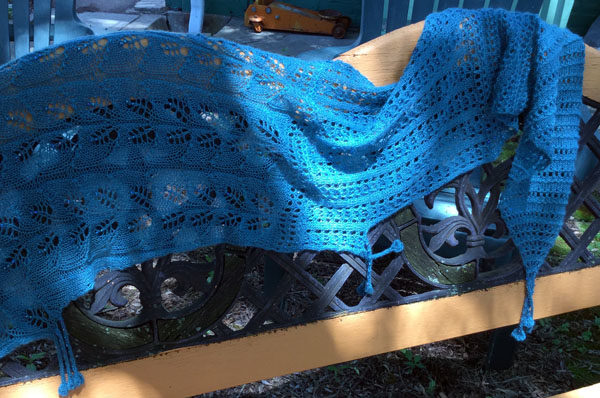 Meanwhile, I'm having a quietly exciting time making these Winter Bride's Gloves.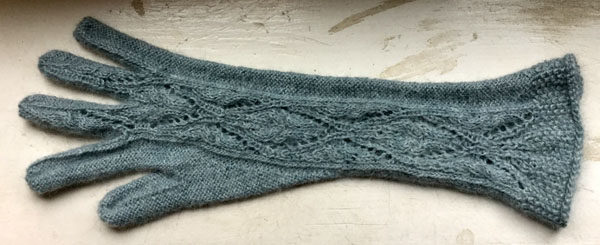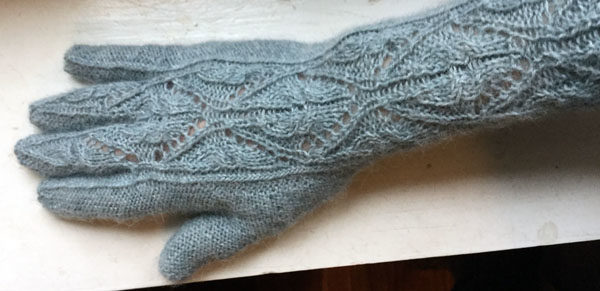 Now, I already know that you don't need gloves, you don't wear gloves, you don't know anyone who's getting married outside in December.  This is not a project you do because you or someone you know needs to keep their hands warm.  You don't think, well, poor Myrtle's hands are always cold so I'll make her the fussiest, most time-consuming gloves I can find.  This is the kind of project you do because the gloves are lovely and because you are a knitter and you can make them. Someday you (or someone) will take them out of the tissue paper you've wrapped them in, waiting for the appropriate moment to wear them or the right person to give them to, and will gasp at the expertise of the person who made them (even if it was you.)  It's enough to know you made them – that's all I'm sayin'.  I'm making them in a totally impractical ice-blue color of Herriott Fine, a softly fuzzy alpaca blend.
I've really just started on Pearl, the pullover we're teaching later in the summer.  I absolutely love working with Plymouth's Worsted Merino Superwash, very soft and bouncy, a real dream to knit with.  I hope I'll have photos next week, but I'll be hither and yon on my week off, so I don't know.  If you know you want to make it, come in and look at the color cards and I'll add your favorite to my stock order that's due in July.
You know we'll closed next week, right?  You do read emails from me, right?  If not, you also may not know that wonderful Tenzing is on sale because it's being discontinued (a little sob is catching in my throat).  I used it to make Corella, the hat that I'm teaching this summer, and you also may remember it from our many wonderful models: Curcuma Elements, Natsumi, Groovy, and many (many) more.  You can always tell how we feel about a yarn – those we love we just keep making models because we can't keep our hands off the yarn.  It would also be splendid for our Magic Loop Mitts class. Come and see!
---