Our customers are so talented and creative and incredibly patient to put up with my terrible photos and my constant pleas of "Can I take a picture?"  I really love seeing finished projects and I hope you do, too!
I've linked to patterns on Ravelry when I know them:
Jill Pelchar finished her sampler afghan in Encore Tweed (the booklet is available in print at the shop) from our class last fall/winter.  Pretty colors, and cozy, too: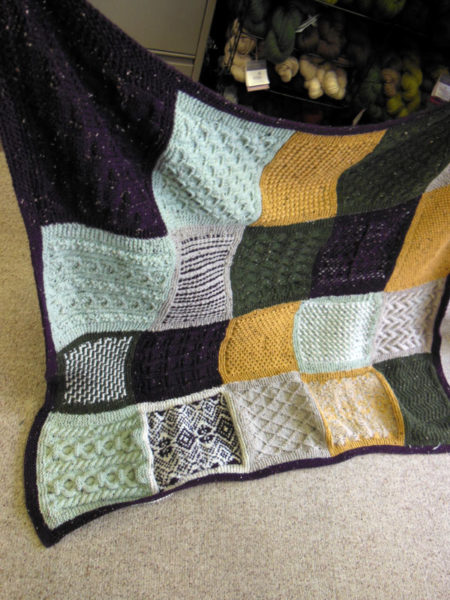 She also did this wonderful poncho in two colors (doing intarsia for the cable insert) of Huasco DK.  I love the way she looks in it! Sorry, I don't know the pattern: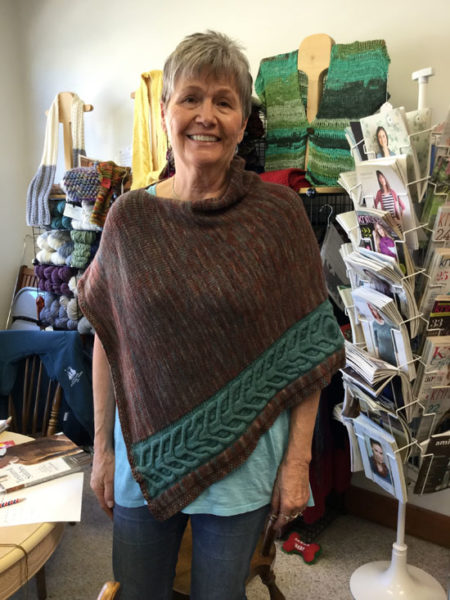 Jane Brubaker completed her Modern Wrapper Fine from Karen's class using Tenzing, and as usual has accessorized it beautifully with a Chevron cowl (pattern is free-with-purchase of yarn at the shop):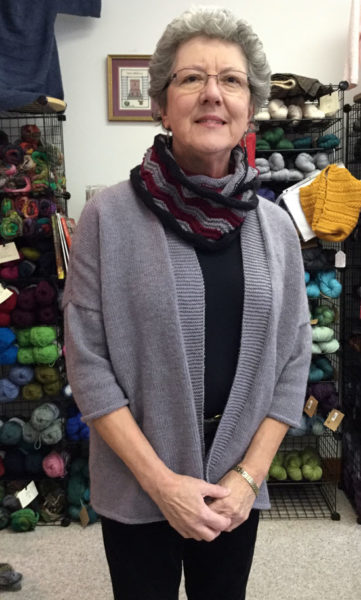 Kathleen Delong recently learned to knit, but you'd think she had been doing it all her life.  Her first project class was the Forest Park cowl, then she made our Adult Ribbed Hat (a free-with-purchase pattern at the shop):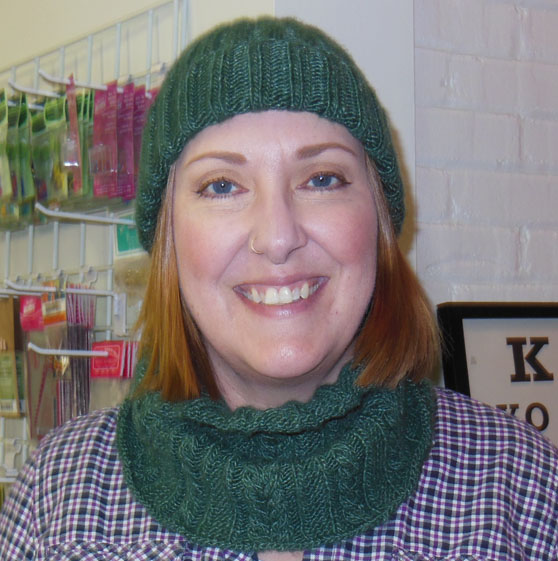 then on to the Wildflower cowl (also free-with-purchase):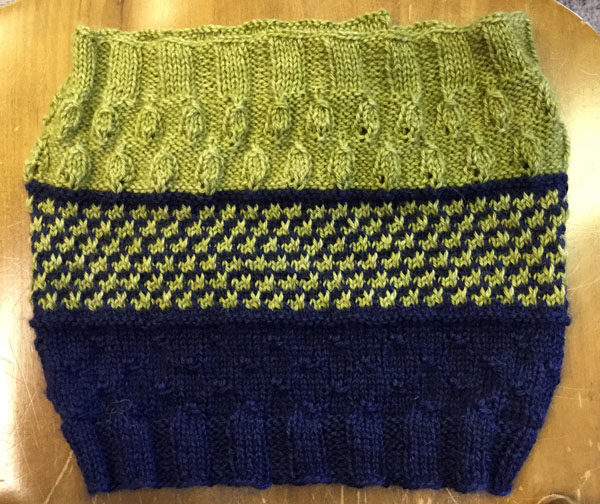 and she just this week finished her Simple Tee (I'll have pictures after blocking) and has three more sweaters lined up! Amazing!
Anne Nordhoy, as always, has done an expert job on three intricate projects:
a little tennis sweater which she designed and knit for the new baby of a tennis fan: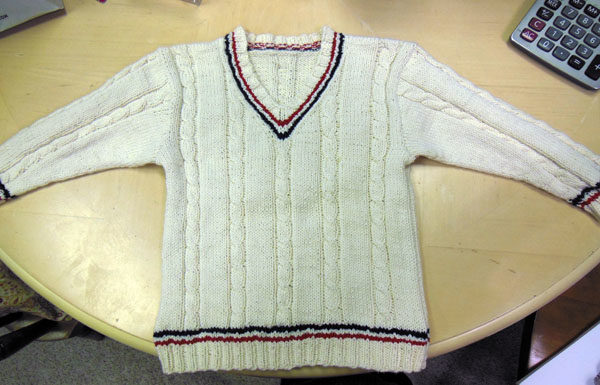 this complicated scarf in Zauberball from a Knitter's Magazine pattern: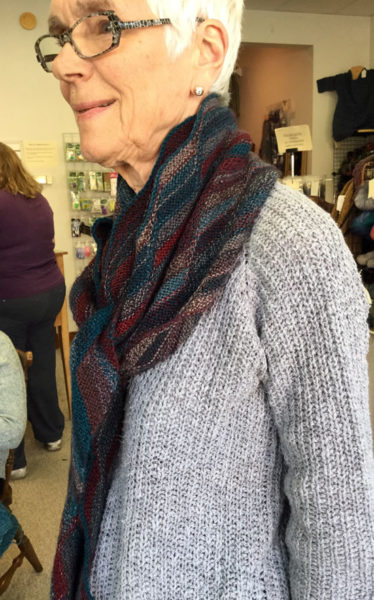 and this pretty Architexture scarf (her second or third, I believe) in Huasco DK: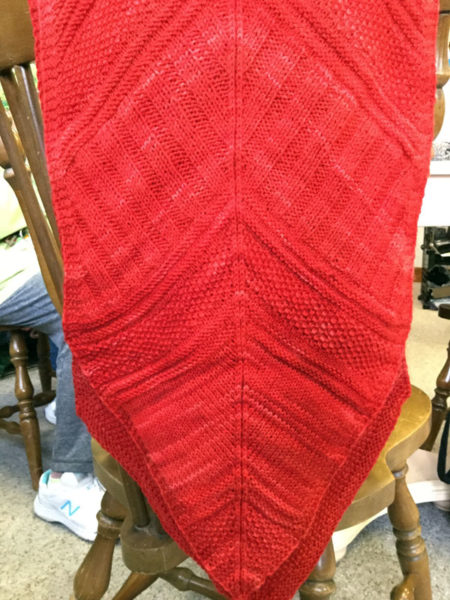 Kathie Holm made this lovely Hydrangea wrap as a gift: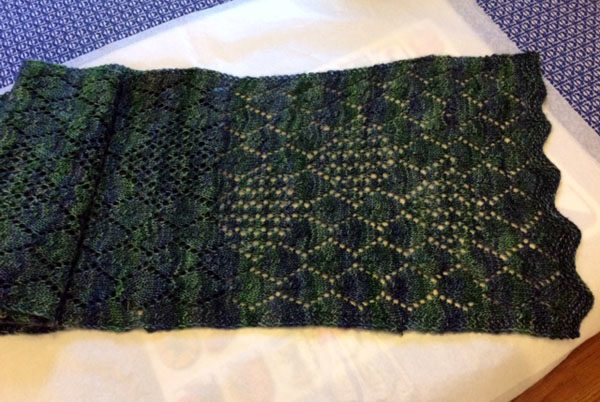 Marci Frey knit this adorable baby sweater for a co-worker.   Sorry, I don't have the name of the pattern: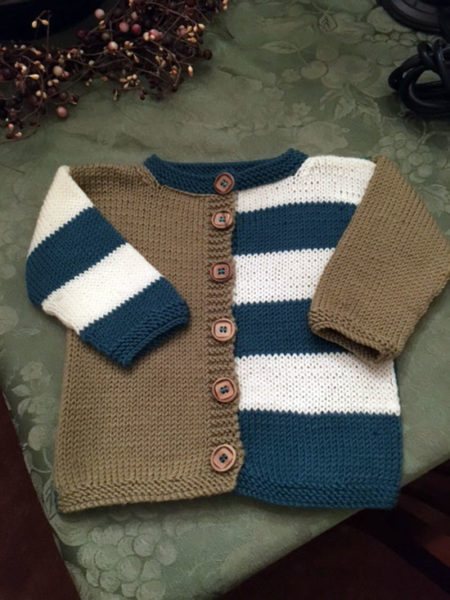 Pam Zern made several pairs of these Last-Minute Mittlets in luscious cashmere: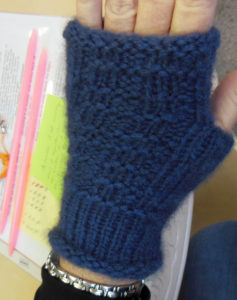 David Ritz, even though we don't see him much these days, keeps in touch, and sent this picture of the Wildflower Cowl he made: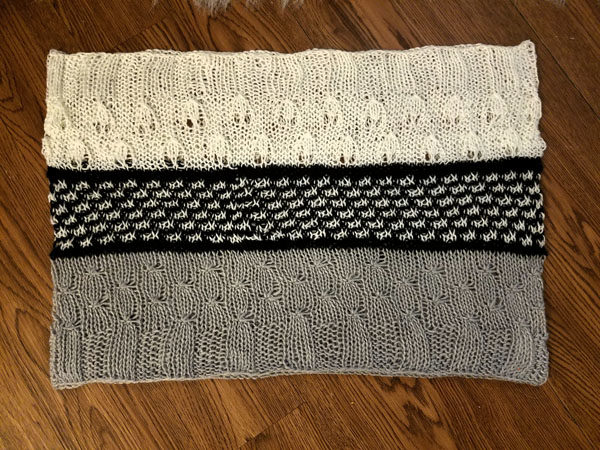 Nadine Lyon fell in love with the rainbow colors of our Sueno colorpacks and made this adorable Bounce baby blanket: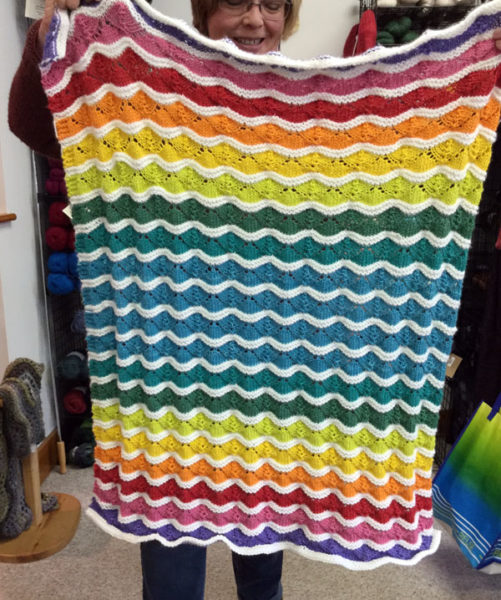 Kim Lally picked a great color of Olympia from Lana Grossa, and made a gorgeous poncho from their booklet of patterns (available at the shop):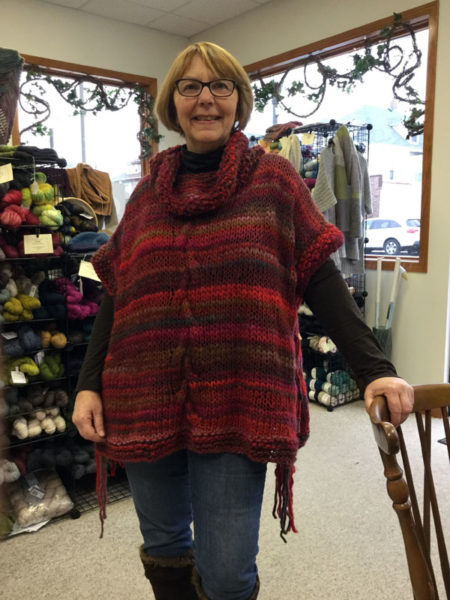 Suzy Crump knit this lovely wrap (called Void) from Amirisu magazine for one of her cherished daughters-in-law: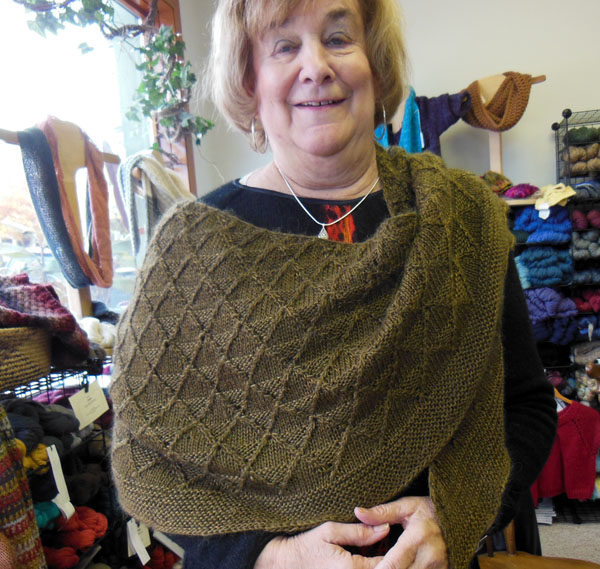 Karen Wenrich used up dozens of fingering-weight left-overs from her many shawls and made this wonderful linen stitch wrap.  I don't know if she used a pattern but Churchmouse's  would certainly work:
Phew!  Overwhelming, yes?  Let's go knit something wonderful!
---