How much more time is left?  How much more money do you need?  How much more stuff do you want?  More clothes, more food, more kudos, more recognition, more social standing, more, more, more?
A death in my family – the first in my generation – and a reunion of sorts with my extended family has made me reflect on what I want for the next few years of my life, what I enjoy about having this little business, and what I would wish for the years beyond.
What I like about the business:
Helping you choose the right yarn for your project.  I really know a lot about yarn and will never try to sell you something that won't work.
Helping you with problems in your knitting.  There's no need to apologize for "taking up our time."  That's what it's all about, as far as I'm concerned.
Teaching classes.
All the stuff you like: buying yarn, talking about yarn, thinking of new projects, talking about knitting, and most of all, knitting.
Designing projects I can't find good patterns for.  This is not really part of the store; it's just something I enjoy and would like to do more of if there is ever enough time.
What I don't like about the business:
Being at the store when no one else is there.  There's no one at home doing the dishes or the laundry or running errands or waiting for the cable guy or arranging doctor appointments or paying bills or taking the dogs to the vet.  I, like many of you, get to do that in my "free" time.  That's why I'm giving myself more of it by being closed on Tuesdays now (and probably forever.)
Selling.  I'm not good at it.  I won't point out a lot of stuff you don't express an interest in or a need for.  If you don't look around, you'll miss a lot of nice yarn and projects and ideas.  Take some time to poke around. (Or don't; it's entirely up to you.)
Minor bugaboos that affect every small business: random requests for donations from strangers, junk phone calls, and people pretending they want to buy yarn from me when what they really want is free advice for their project from Michael's or AC Moore or "America's Yarn Store" which is hubris if I've ever heard it and may be the only yarn store around when the dust settles.  Don't you wonder how that will go?
My family's loss of a really good guy, great dad and "Pap" (as his grandkids called him), and my cousin's sweet husband of 49 years seems to me an occasion to step back a bit and see where we are and where, if we're given the opportunity, we go from here.
And while we reflect, here are some finished sweater projects to inspire our knitting, lovely as they are.
Rochelle Mann, her own design, in Plymouth Worsted Merino Superwash: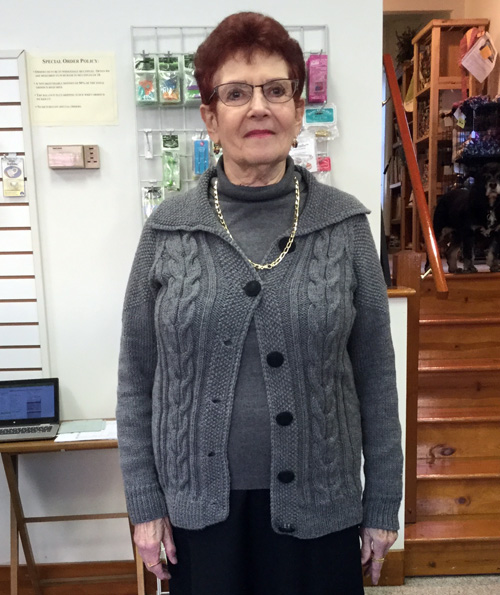 Donna Hain, Eyelet Cardi, in Elsebeth Lavold Silky Wool: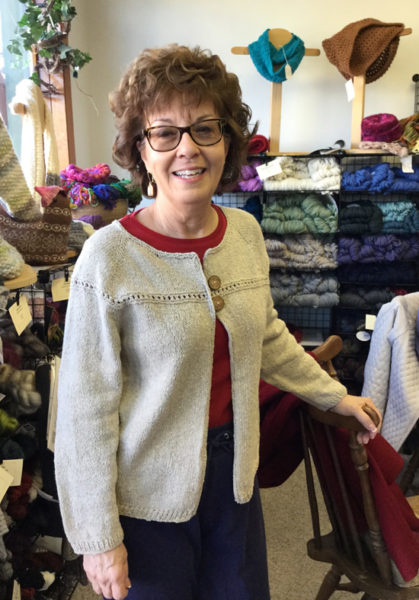 Eleni Geishauser for her husband, Snowshoe Aran, in Plymouth Galway: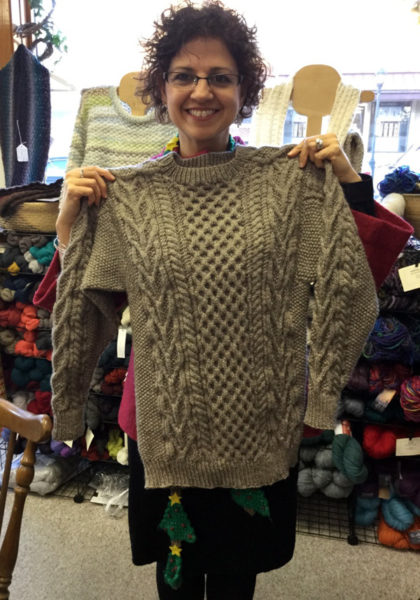 Virginia Conrad, from The Best of Lopi, in Fibre Company's Cumbria: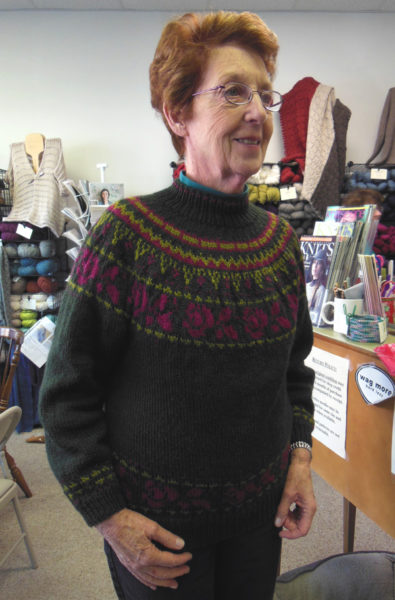 Anne Alderman, Modern Wrapper Fine, in Lana Gatto Feeling (with husband John):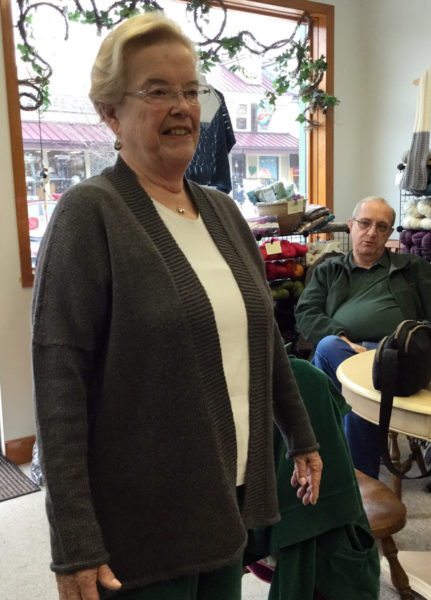 Virginia Griffith, Sunshine Coast, in Juniper Moon Farm's Zooey: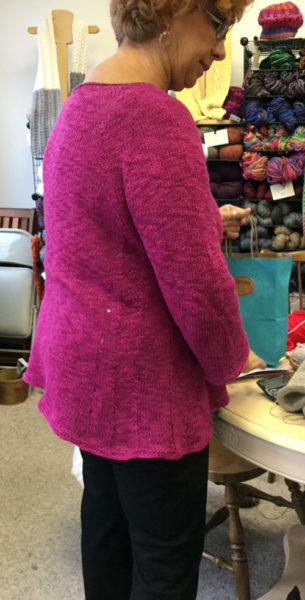 Anne Nordhoy, Vitamin D, Modern Wrapper Fine, and her own creation, in various wonderful yarns: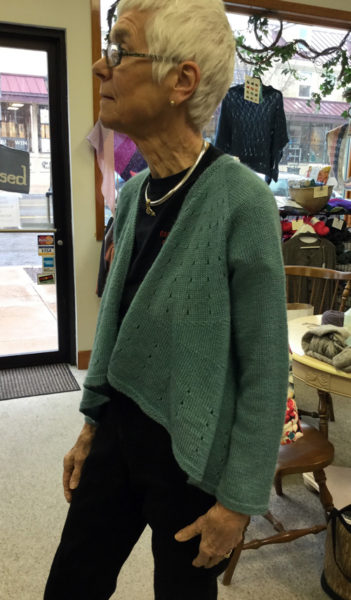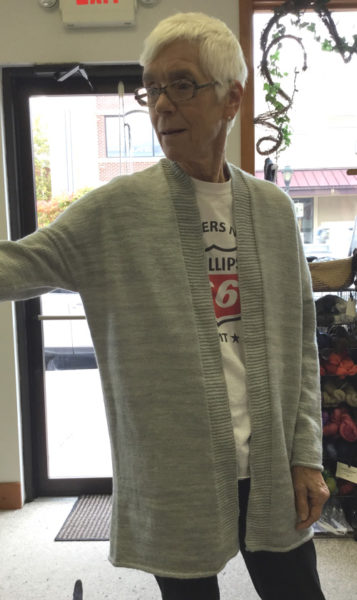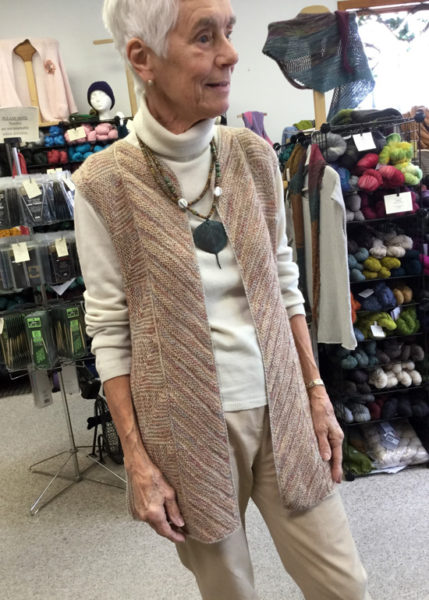 Thanks to everyone who endures my poor photography and my ramblings here.  Writing to you all may be my very favorite part of having the store!  See you soon.
---